Notice: Undefined index: width in /var/www/html/wp-includes/media.php on line 1593 Notice: Undefined index: height in /var/www/html/wp-includes/media.php on line 1594
Venue of INDTECH2018
Industial Technologies in the Heart of Europe
The conference INDTECH2018 is going to take place in Vienna/Austria. The capital of Austria – in German Wien –  is a fascinating, beautiful and nice place. With more than xxx years of history, visitors get in touch with ancient knights, a vibrating cultural scenery that ranges from classics to modern approaches, great tasting food and an inspiring nightlife. Vienna has been consistently voted one of the world's most liveable cities in recent years.  Additionally, with yyy universities and colleges Vienna is an internationally acknowledged place of science and research.
Find more information about Vienna at https://www.wien.gv.at/english/
The conference INDTECH2018 will take place at the Messe Wien Exhibition & Congress Center, Messeplatz 1, 1021 Vienna, Austria
anfahrt_wien
Whan you travel by car, here you can find information about the parking opportunities: https://storage.googleapis.com/b2match-wp/2018/01/60b3a62f-parkplaetze_messe_wien.pdf
The Vienna International Airport is only 20 minutes away by taxi. The airport bus also takes you to Messe Wien (Foyer D) in 30 minutes.
Two underground stations are located a stone's throw away from the venue's main entrances: U2: Messe-Prater and U2: Krieau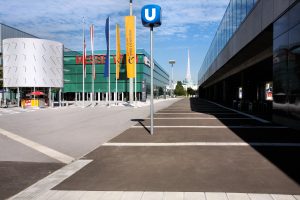 Accommodation
Map of Vienna with the different Hotels, wich cooperate with us:
We have reserved room contingents with special rates for INDTECH2018 in 15 different hotels easily accessible from the conference venue. Room bookings with special INDTECH2018 rates can be made directly at the hotels – please klick on the respective hotel for reservation details (see below).  Contingents will be active until the indicated date and are subject to availability.
Name of hotel
Address
Distance
Special option until
Price icl. Breakfast
Park Inn Radisson
Wagramer Str. 16-18, 1220 Wien
21 min. public transport
15.09.
119,00 €
Arcotel Kaiserwasser
Wagramer Str. 8, 1220 Wien
27 min. public transport
01.09.
149,00 €
Austria Trend Lassalle
Engerthstr. 173-175, 1020 Wien
23 min. public transport
24.09.
100 – 116 €
Motel One Wien Prater
Ausstellungsstraße 40, 1020 Wien
5 min. walk
03.09.
80,24 €
Hilton Vienna Danube Waterfront
Handelskai 269, 1020 Wien
19 min. public transport
15% discount on the best available rate at the current day
Courtyard by Marriott
Trabrennstraße 4, 1020 Wien
10 min. walk
29.7.
120,00 €
Hotel IMLAUER & Nestroy Wien
Rotensterngasse 10, 1020 Wien
16 min. public transport
1.8.
143,44 €
Austria Classic Hotel Wien
Praterstraße 72, 1020 Wien
16 min. public transport
1.8.
120,00 €
Ibis Budget Hotel Messe Wien
Lassallestraße 7, 1020 Wien
15 min. walk
17.09.
89,00 €
Novotel Suites Wien City Donau
Radingerstraße 2, 1020 Wien
15 min. walk
17.09.
109,00 €
magDAS Hotel
Laufbergergasse 12, 1020 Wien
15 min. walk
1.8.
90,00 €
Hotel Mercure Josefshof
Josefsgasse 4, 1080 Wien
18 min. public transport
14.9.
115,00 €
25hours Hotel
Lerchenfelder Str. 1-3, 1070 Wien
23 min. public transport
6.8.
135,00 €
K+K Hotel Maria Theresia
Kirchberggasse 6, 1070 Wien
24 min. public transport
31.7.
134,16 €
Hotel Alpha Wien
Buchfeldgasse 8, 1080 Wien
20 min. public transport
30.6.
112,00 €