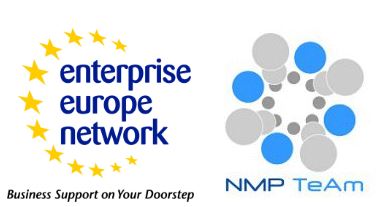 The matchmaking event on the 30th of October was co-organised by the Enterprise Europe Network – the biggest European Network that provides internationalisation and innovation support to European businesses in collaboration with NMP Team, the main source of practical information and individual assistance in participation in the Industrial Leadership KET Part (Nanotechnologies, Advanced Materials and Advanced Manufacturing and Processing) of the HORIZON 2020 Framework Programme.
Never heard about matchmaking events? Please have a look at this short video:
Matchmaking sessions allow you to use the full networking potential this conference offers. It is a quick and easy way to meet potential cooperation partners. People meet and greet at high speed: 20 minutes are usually enough to build connections, then the bell rings and the next talk starts.
1. Online registration
Register online and submit your own cooperation profile.
Beside the R&D&I call topics of the H2020 NMBP Work Programme 2019-2020 and the cross-cutting activities, you can choose between following areas:
Project Cooperation: Add a cooperation wish if you are looking for a cooperation partner for your project proposal.
Expertise: Describe what kind of expertise & know-how you can provide to other participants. Example: you have deep know-how in a specific field such as "green growth" and you are looking for projects where this expertise is needed.
Product: Add and describe a product you are offering to your profile.
Service: Add and describe a service you are offering to your profile. Example: you offer access to your own R&D infrastructure.
Investment: If you are seeking investment create an investment opportunity.
Request: Create a request for anything specific you are looking for.
2. Promotion of published profiles
All published profiles will be extensively promoted by the organisers of this event. Furthermore, all event participants will view your cooperation profile. High quality profiles are visited about 50 to 150 times BEFORE the event and can still be viewed AFTER the event.
3. Selection of bilateral meetings
Email notification
You will be informed by email when you can start booking bilateral meetings. Search for interesting cooperation profiles under the menu item "Participants". Intelligent search options allow a quick identification of the most suitable participants/cooperation profiles. Within a few minutes you should be able to identify future potential business partners.
Booking bilateral meetings
Once you have found the most promising innovation and business partners you can select them for bilateral meetings. You can add further meetings any time but please be aware that the bookings are managed on the principle of first come, first served. You can book meetings BUT you can also be booked for bilateral talks by other participants!
Your personal meeting schedule
You will receive your personal meeting schedule a few days before the event (and you can constantly check your meeting schedule online). This meeting schedule informs you about the time, the number of the table, and who you are going to meet.
4. At the event
At the event you will be able to look online for an updated version of your meeting schedule including last minute bookings. In chronological order for each meeting your personal meeting schedule lists the
name of your conversation partner
number of table for each meeting
Mobile Application
This event is certified under the Austrian Presidency as a "green event", thus we are striving to provide a paperless experience to all participants. We highly recommend that you download b2match mobile application (Google Play, iTunes App Store), in order to be up-to-date about your meeting schedule and be able to send and receive last-minute meeting requests on the spot.
Our staff will be at your disposal for assistance during the whole event.